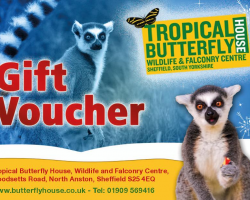 Gift Voucher
If you would like a gift voucher posting as well as an email copy please email education@butterflyhouse.co.uk and quote your gift voucher number. This will be a 16 digit code and will begin with a V. Please include your contact number for us to contact you for the extra payment and your delivery address.
Please note their will be a £2.49 charge.
Gift Vouchers may be spent on admission to the park, pre-booked Keeper Experiences, and any purchases in the Jungle Gift Shop or Butterfly Café. No change is given and Gift Vouchers are valid for 12 months from the date of purchase. Full terms may be found on the reverse of the voucher.